HP
USB-C Dock G5 (5TW10AA)
Tax Information
Exc GST:
600.00
GST:
60.00
Inc GST:
660.00
DISCLAIMER: Product Description is marketing material provided by Manufacturers and or Distributors to advertise their products and or product ranges and may not provide accurate and or individual model information, as such Harris Technology will not warrant the accuracy of the information, for most accurate information please use Product Specifications tab. For full information please click terms & conditions
Estimated Availability:
10 or more units in stock
*Our stock is a mix of Suppllier and HT Stock.
All shipments are subject to our standard delivery policy.

Get to work with a single cable from your USB-C-enabled notebook to your displays, devices, and wired network with the versatile, elegant, and space-saving HP USB-C Dock G5. The dock is compatible with notebooks from brands like HP, Apple, Dell, Lenovo, and more.

 


Key Features
---
Compatible with your mixed PC environment

Designed with universal compatibility in mind, this dock works with both HP and non-HP USB-C-- and Thunderbolt--enabled notebooks.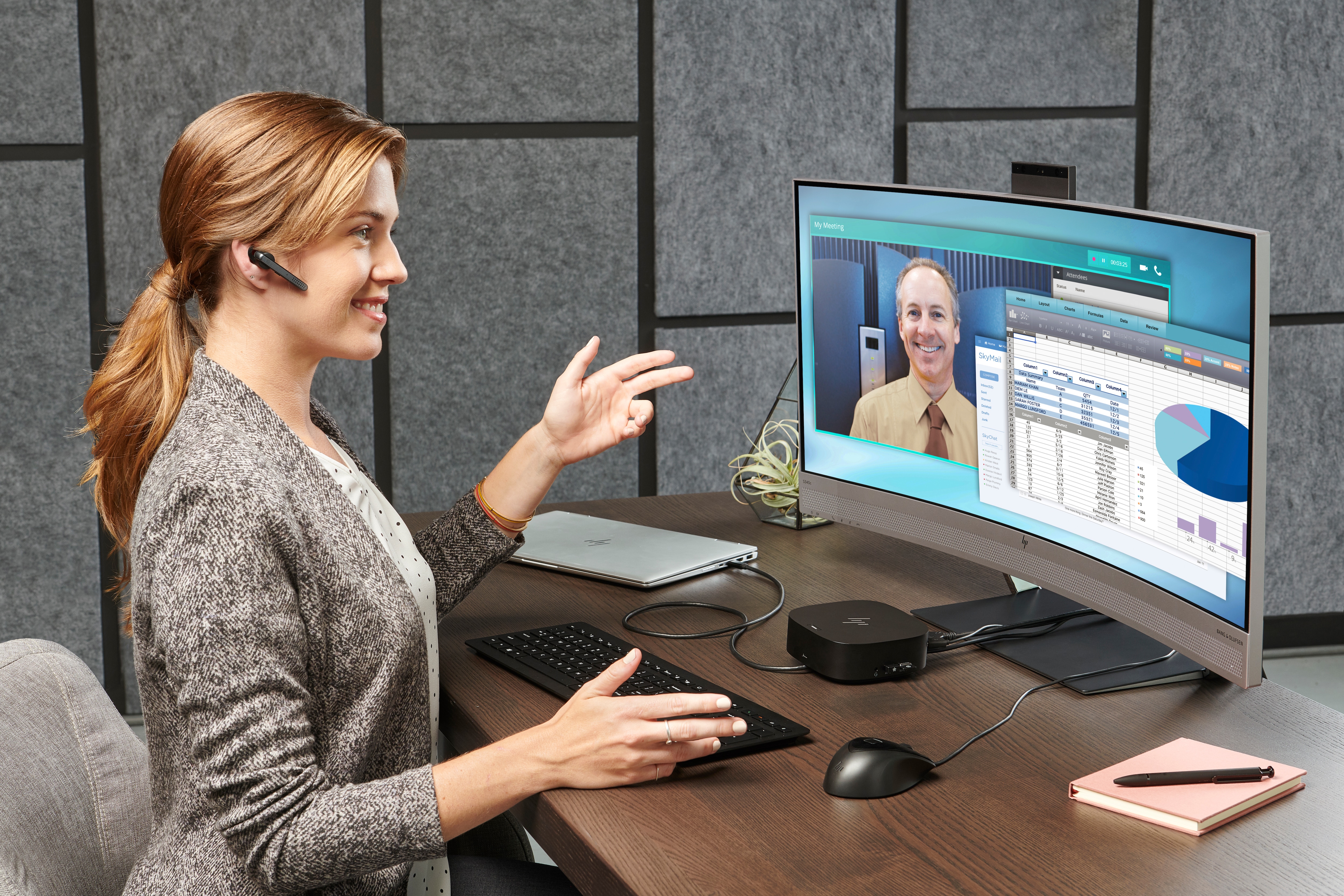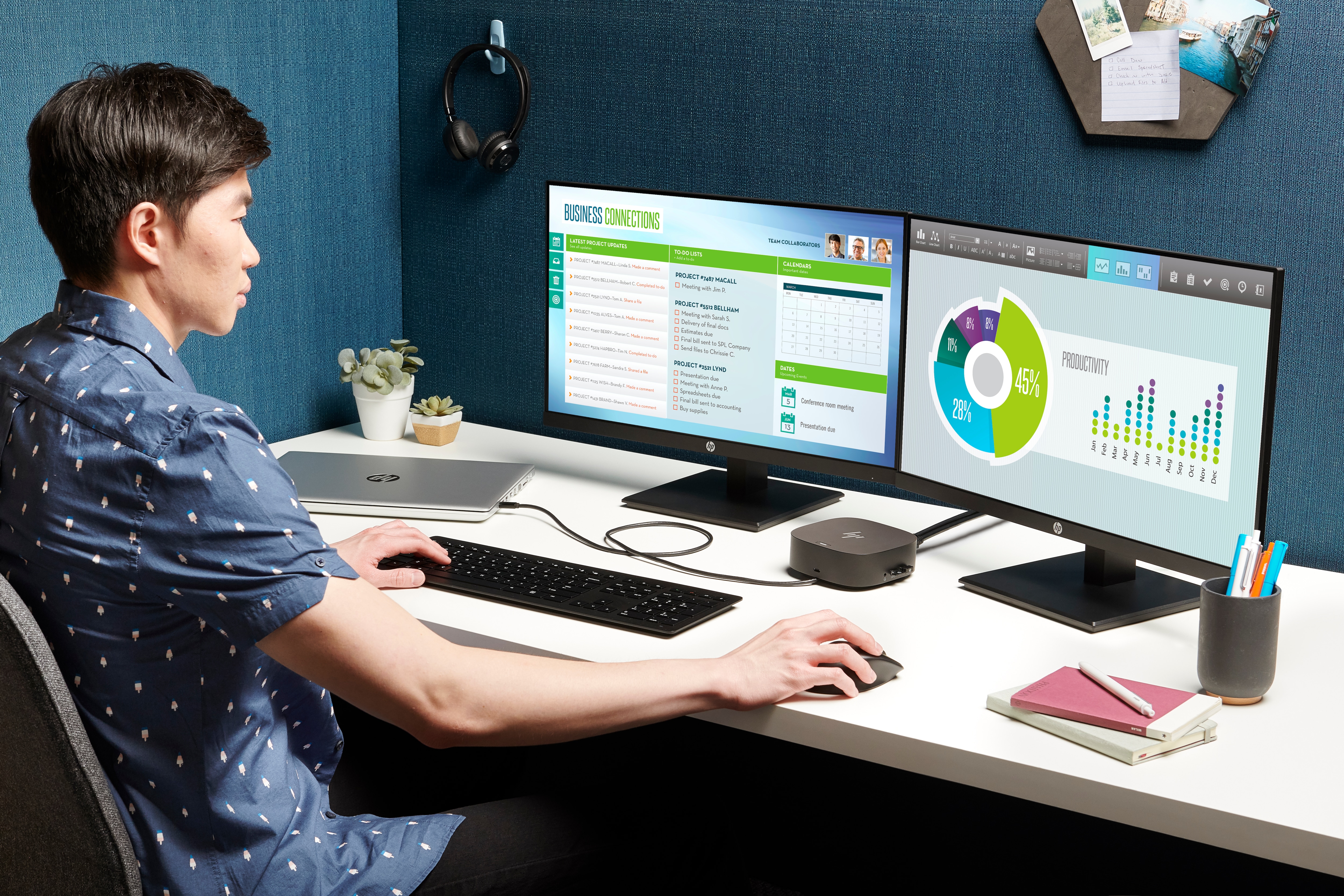 Easily manage your commercial HP fleet

Help IT secure and remotely manage your deployed commercial HP notebooks1 and the dock with advanced network manageability features that include PXE Boot, LAN/WLAN switching, and WoL and MAC Address Pass-Through in all power states.
Single-cable solution

Add your accessories and up to three displays to the dock. Then simply connect it to your notebook through a single USB-C cable to access your devices and charge your PC.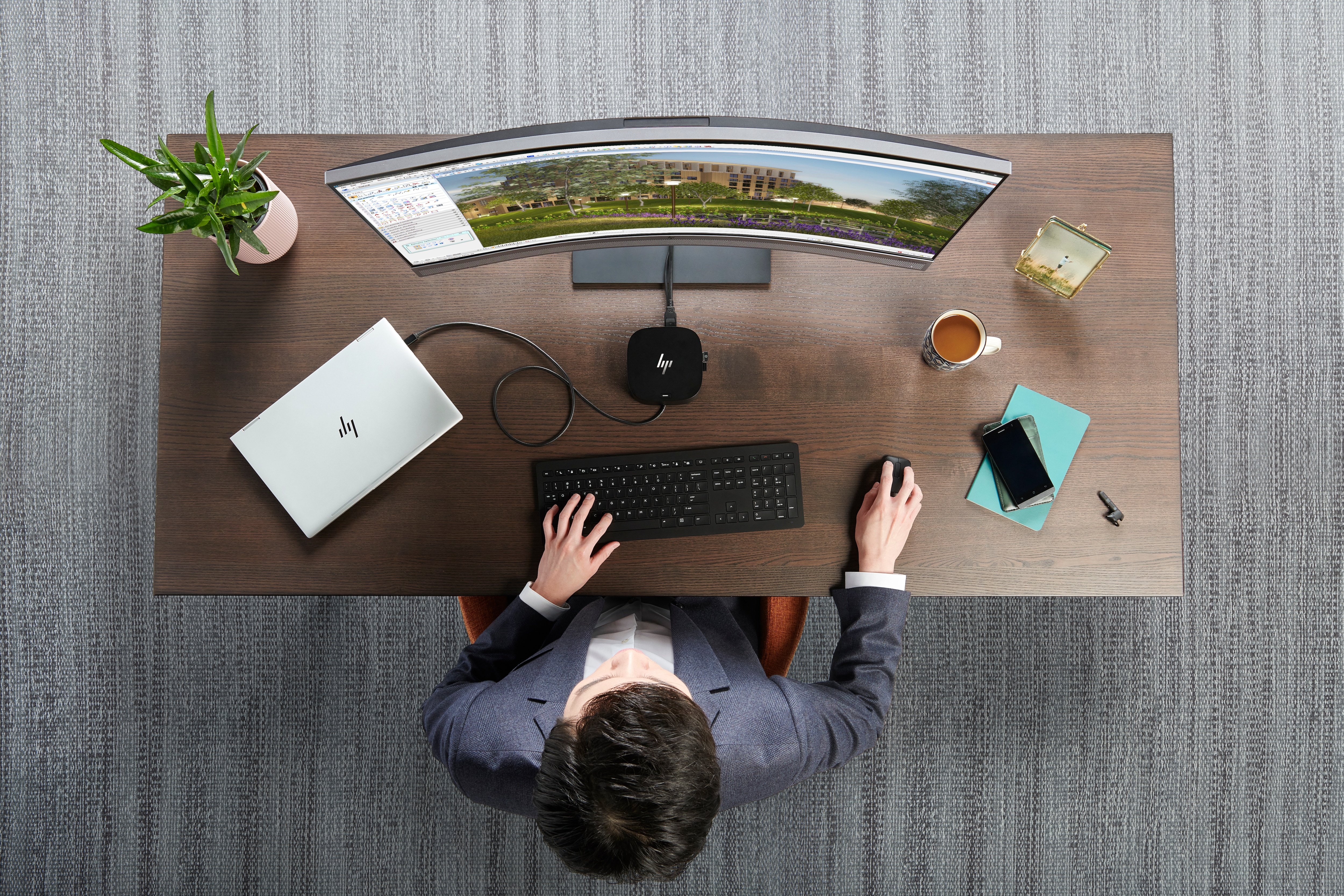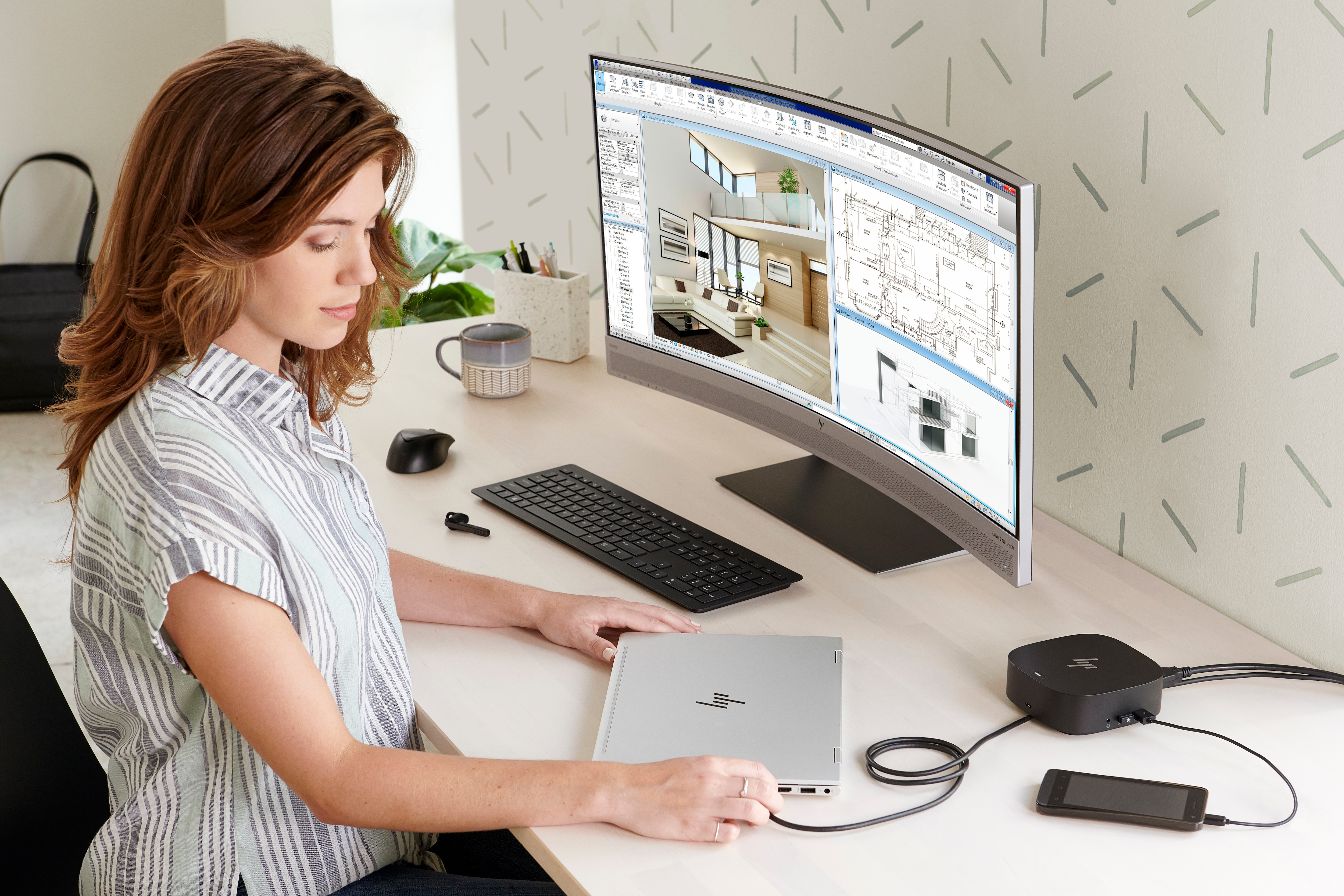 Small footprint

Reclaim your desk with a compact dock that takes up only 5 x 5 inches of space.


Specifications
---

Code name:
Adicora-A

Colour:Black

Compatibility:Compatible with HP ProBook 450 G7 Notebook PC; HP ProBook 440 G7 Notebook PC; HP ProBook 430 G7 Notebook PC; HP ZHAN 66 Pro 14 G3 Notebook PC; HP ZHAN 66 Pro 15 G3 Notebook PC; HP ProBook 450 G6 Notebook PC; HP ProBook 440 G6 Notebook PC; HP ProBook 430 G6 Notebook PC; HP ProBook x360 440 G1 Notebook PC; HP ProBook 445R G6 Notebook PC; HP ProBook 455R G6 Notebook PC; HP ProBook 445 G6 Notebook PC; HP ProBook 455 G6 Notebook PC; HP ProBook 470 G5 Notebook PC; HP ProBook 450 G5 Notebook PC; HP ProBook 440 G5 Notebook PC; HP ProBook 430 G5 Notebook PC; HP ProBook 455 G5 Notebook PC; HP ProBook 640 G5 Notebook PC; HP ProBook 650 G5 Notebook PC; HP ProBook 640 G4 Notebook PC; HP ProBook 650 G4 Hex Core Notebook PC; HP ProBook 650 G4 Notebook PC; HP ProBook 645 G4 Notebook PCHP Pro x2 612 G2; HP EliteBook 840 G6 Healthcare Edition Notebook PC; HP EliteBook 840 G5 Healthcare Edition Notebook PC; HP Elite Dragonfly Notebook PC; HP EliteBook x360 1040 G6 Notebook PC; HP EliteBook x360 1030 G4 Notebook PC; HP EliteBook x360 1040 G5 Notebook PC; HP EliteBook x360 1030 G3 Notebook PC; HP Elite x2 G4; HP EliteBook x360 1030 G2 Notebook PC; HP Elite x2 1012 G2; HP EliteBook x360 1020 G2 Notebook PC; HP EliteBook x360 830 G6 Notebook PC; HP EliteBook x360 830 G5 Notebook PC; HP EliteBook 830 G6 Notebook PC; HP EliteBook 836 G6 Notebook PC; HP EliteBook 840 G6 Notebook PC; HP EliteBook 850 G6 Notebook PC; HP EliteBook 745 G6 Notebook PC; HP EliteBook 745 G5 Notebook PC; HP EliteBook 755 G5 Notebook PC; HP EliteBook 840 G5 Notebook PC; HP EliteBook 850 G5 Notebook PC; HP EliteBook 840r G4 Notebook PC; HP EliteBook 830 G5 Notebook PC; HP EliteBook 735 G6 Notebook PC; HP EliteBook 735 G5 Notebook PC; HP ZBook 14u G6 Mobile Workstation; HP ZBook 15u G6 Mobile Workstation; HP ZBook 15 G6 Mobile Workstation; HP ZBook 15 G5 Mobile Workstation; HP ZBook 17 G6 Mobile Workstation; HP ZBook 17 G5 Mobile Workstation; HP ZBook 14u G5 Mobile Workstation; HP ZBook 15u G5 Mobile Workstation; HP EliteBook 1050 G1 Notebook PC; HP ZBook Studio G5 Mobile Workstation; HP ZBook x2 G4 Detachable Workstation; HP ZBook Studio x360 G5 Convertible Workstation; HP Chromebook x360 14 G1; HP Chromebook x360 11 G2 EE; HP Chromebook 14A G5

Compatible Operating Systems:Windows 7; Windows 10; Chrome- OS; MacOS; Ubuntu Linux v18.04

Copyright notice: Copyright 2020 HP Development Company, L.P. The information contained herein is subject to change without notice. The only warranties for HP products and services are set forth in the express warranty statements accompanying such products and services. Nothing herein should be construed as constituting an additional warranty. HP shall not be liable for technical or editorial errors or omissions contained herein.

Image legal disclaimer:Product image may differ from actual product

Legal disclaimer:Thunderbolt is a trademark of Intel Corporation or its subsidiaries in the U.S. and/or other countries. USB Type-C- and USB-C- are trademarks of USB Implementers Forum. Apple is a trademark of Apple Computer, Inc., registered in the U.S. and other countries.

Minimum dimensions (W x D x H):122 x 122 x 45 mm

Minimum dimensions (W x D x H):4.8 x 4.8 x 1.77 in

Ports:1 USB Type-C- (front); 1 USB 3.0 (side, charging SS); 3 USB 3.0 (back, charging); 2 DisplayPort-; 1 HDMI 2.0; 1 headphone/microphone combo

Product long name specifications:HP USB-C Dock G5

Product subgroup:Docking

Security management:1 Lock slot (side, lock is sold separately)

Warranty:1 Year Limited Warranty (Return to HP/Dealer - Standard Bench Repair & Phone-in Assistance)

Weight:680 g


Code name:
Adicora-A

Colour:Black

Compatibility:Compatible with HP ProBook 450 G7 Notebook PC; HP ProBook 440 G7 Notebook PC; HP ProBook 430 G7 Notebook PC; HP ZHAN 66 Pro 14 G3 Notebook PC; HP ZHAN 66 Pro 15 G3 Notebook PC; HP ProBook 450 G6 Notebook PC; HP ProBook 440 G6 Notebook PC; HP ProBook 430 G6 Notebook PC; HP ProBook x360 440 G1 Notebook PC; HP ProBook 445R G6 Notebook PC; HP ProBook 455R G6 Notebook PC; HP ProBook 445 G6 Notebook PC; HP ProBook 455 G6 Notebook PC; HP ProBook 470 G5 Notebook PC; HP ProBook 450 G5 Notebook PC; HP ProBook 440 G5 Notebook PC; HP ProBook 430 G5 Notebook PC; HP ProBook 455 G5 Notebook PC; HP ProBook 640 G5 Notebook PC; HP ProBook 650 G5 Notebook PC; HP ProBook 640 G4 Notebook PC; HP ProBook 650 G4 Hex Core Notebook PC; HP ProBook 650 G4 Notebook PC; HP ProBook 645 G4 Notebook PCHP Pro x2 612 G2; HP EliteBook 840 G6 Healthcare Edition Notebook PC; HP EliteBook 840 G5 Healthcare Edition Notebook PC; HP Elite Dragonfly Notebook PC; HP EliteBook x360 1040 G6 Notebook PC; HP EliteBook x360 1030 G4 Notebook PC; HP EliteBook x360 1040 G5 Notebook PC; HP EliteBook x360 1030 G3 Notebook PC; HP Elite x2 G4; HP EliteBook x360 1030 G2 Notebook PC; HP Elite x2 1012 G2; HP EliteBook x360 1020 G2 Notebook PC; HP EliteBook x360 830 G6 Notebook PC; HP EliteBook x360 830 G5 Notebook PC; HP EliteBook 830 G6 Notebook PC; HP EliteBook 836 G6 Notebook PC; HP EliteBook 840 G6 Notebook PC; HP EliteBook 850 G6 Notebook PC; HP EliteBook 745 G6 Notebook PC; HP EliteBook 745 G5 Notebook PC; HP EliteBook 755 G5 Notebook PC; HP EliteBook 840 G5 Notebook PC; HP EliteBook 850 G5 Notebook PC; HP EliteBook 840r G4 Notebook PC; HP EliteBook 830 G5 Notebook PC; HP EliteBook 735 G6 Notebook PC; HP EliteBook 735 G5 Notebook PC; HP ZBook 14u G6 Mobile Workstation; HP ZBook 15u G6 Mobile Workstation; HP ZBook 15 G6 Mobile Workstation; HP ZBook 15 G5 Mobile Workstation; HP ZBook 17 G6 Mobile Workstation; HP ZBook 17 G5 Mobile Workstation; HP ZBook 14u G5 Mobile Workstation; HP ZBook 15u G5 Mobile Workstation; HP EliteBook 1050 G1 Notebook PC; HP ZBook Studio G5 Mobile Workstation; HP ZBook x2 G4 Detachable Workstation; HP ZBook Studio x360 G5 Convertible Workstation; HP Chromebook x360 14 G1; HP Chromebook x360 11 G2 EE; HP Chromebook 14A G5

Compatible Operating Systems:Windows 7; Windows 10; Chrome- OS; MacOS; Ubuntu Linux v18.04

Copyright notice: Copyright 2020 HP Development Company, L.P. The information contained herein is subject to change without notice. The only warranties for HP products and services are set forth in the express warranty statements accompanying such products and services. Nothing herein should be construed as constituting an additional warranty. HP shall not be liable for technical or editorial errors or omissions contained herein.

Image legal disclaimer:Product image may differ from actual product

Legal disclaimer:Thunderbolt is a trademark of Intel Corporation or its subsidiaries in the U.S. and/or other countries. USB Type-C- and USB-C- are trademarks of USB Implementers Forum. Apple is a trademark of Apple Computer, Inc., registered in the U.S. and other countries.

Minimum dimensions (W x D x H):122 x 122 x 45 mm

Minimum dimensions (W x D x H):4.8 x 4.8 x 1.77 in

Ports:1 USB Type-C- (front); 1 USB 3.0 (side, charging SS); 3 USB 3.0 (back, charging); 2 DisplayPort-; 1 HDMI 2.0; 1 headphone/microphone combo

Product long name specifications:HP USB-C Dock G5

Product subgroup:Docking

Security management:1 Lock slot (side, lock is sold separately)

Warranty:1 Year Limited Warranty (Return to HP/Dealer - Standard Bench Repair & Phone-in Assistance)

Weight:680 g

To add selected accessories only. click add accessories click add to cart to add both the product and selected accessories